NYC Transportation Initiative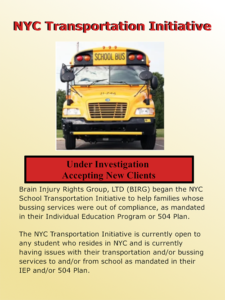 *Please note that this initiative is only open to NYC students currently having Transportation Issues. 
Brain Injury Rights Group, LTD (BIRG) began the NYC School Transportation Initiative to help families whose bussing services were out of compliance, as mandated in their Individual Education Program or 504 Plan. The NYC Transportation Initiative is currently open to any student who resides in NYC and is currently having issues with their transportation and/or bussing services to and/or from school as mandated in their IEP and/or 504 Plan.
How to Join:  If you are a NYC resident AND your child is currently having issues with DOE Transportation Services (that are mandated in their IEP/504 Plan), please submit the NYC Transportation Form and one of our associates will be in contact with you.