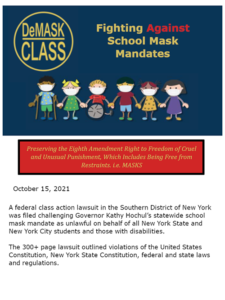 *Open to students nationwide with or without a disability
In the summer of 2021, Brain Injury Rights Group, LTD (BIRG) launched the DeMaskClass Action website to provide parents with information regarding mask mandates in schools.
 On October 15, 2021, BIRG filed a federal class action lawsuit in the Southern District of New York. The lawsuit "Donohue et al v. Hochul et al" (Case 1:21-cv-08463) seeks a preliminary injunction to stop the continuation of the statewide school mask mandate challenging Governor Kathy Hochul's statewide school mask mandate as unlawful on behalf of all New York State and New York City students and those with disabilities.
 The 300+ page lawsuit outlined violations of the United States Constitution, New York State Constitution, federal and state laws and regulations.
 The U.S. Constitutional violations include the:
First Amendment violation of the Religious Establishment Clause, preventing the establishment of Dr. Anthony Fauci's religious Humanist practice against "science"
Fourth Amendment freedom of liberty
Eighth Amendment freedom from cruel and unusual punishment
Ninth Amendment freedom of parents to direct care of their children
Fourteenth Amendment due process
Federal law violations include:
Individuals with Disabilities Education Act (IDEA stay-put)
Section 504 of the Rehabilitation Act of 1973 (discrimination against disabled children),
Americans with Disabilities Act
The New York State violations include:
The right to an education without restraints on children
Illegally adopting a statewide regulation without the state legislature's approval.
Since then, BIRG has launched similar class actions nationwide against Mask Mandates in Schools.