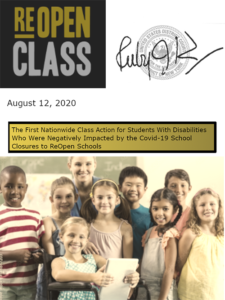 *Open to students nationwide with disabilities (with an IEP or 504 Plan).
In the spring of 2020, when science came out that the safest place for students and staff was in schools, Brain Injury Rights Group, LTD (BIRG) established what is called the ReOpen Class.
In July 2020, BIRG along with over 200 families from across the country with special-needs children as the Plaintiffs, filed the only national class action lawsuit in the Federal District Court for the Southern District of New York.
The class action claimed that remote learning plans violated these students' rights by altering their education programs and failing to provide legally mandated services, especially students who require one on one assistance.
The case is demanding the school districts:
Resume Full-Time In Person Special Education For Impacted Kids
Fresh Evaluations For Badly Regressed Children
Compensatory Services
Compensation For Parental Expenses Incurred During Remote Learning And In Some Cases Loss Of Income, Because Parents Left Their Jobs To Care For Their Children
The  ReOPEN CLASS action filed in July 2020 is currently pending appeal in the southern district of New York. One of the key aspects of the class action is that school districts across the country committed massive RICO Medicaid fraud by taking billions of dollars in Medicaid money for services that were not provided to students.
While the national class action is pending appeal, BIRG has subsequently filed statewide class actions across the country in Massachusetts, Connecticut, New York, New Jersey, Virginia, Michigan, Illinois and California.
In January 2022, BIRG filed emergency relief in several states after some school districts pushed back to remote instruction.
For the latest developments in the class, visit:  ReOPENCLASS