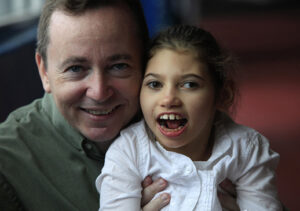 Founder | Attorney
Bar Admissions: State of New York | U.S. District Courts for the Eastern and Southern Districts of NY
In 2005, Mr. Donohue was given the most devastating news any father could receive. His daughter Sarah Jane was diagnosed with a Traumatic Brain Injury (TBI), which was the direct result of  being violently shaken by her baby nurse when she was only five days old. This traumatic experience has given Mr. Donohue great insight into the pains families face and the lack of resources that are  available to those families with TBI or a Pediatric Acquired Brain Injury (PABI).  It has been through this hardship that Mr. Donohue's mission has been to advocate and advance the knowledge to not only improve his daughter's life, but to the brain-injured community, through research,  education, and legal matters.
Mr. Donohue's experience and expertise brings tremendous value to this effort, receiving his B.A. degree with a triple major in mathematics, philosophy, and political science from Rutgers College in 1992. He received his law degree in two and half years from Fordham Law School in 1997 and his M.B.A. in Finance from New York University Stern School of Business in 2000. He has been licensed to practice law in New York State since 1999.
>Mr. Donohue officially founded Brain Injury Rights Group (BIRG) a national non-profit legal and civil rights organization for the special education community. BIRG offers pro-bono legal and advocacy services to the special education community. BIRG has represented scores of families who have a student with a brain injury across New York State in all matters of Special Education Law including the development of Individualized Education Plans (IEPs), attending IEP meetings, filing Due Process Complaints, negotiating settlements as well as litigating on their behalf in Impartial Hearings against school districts.
Mr. Donohue is also the Founder and Chairman of the International Institute for the Brain (iBRAIN) which is one of the largest special education programs in the United States focused on students with a brain injury or brain-based disorder. iBRAIN's main campus is located in a 26,000 square foot facility on the Upper East Side of New York City with a satellite location opening in Brooklyn in the spring of 2022.
>Prior to founding  BIRG and iBRAIN, Mr. Donohue founded the Sarah Jane Brain Foundation (SJBF) which is an international non-profit named after his daughter.  Since the foundation was launched in October 2007, it quickly grew into one of the largest organizations in the world dealing with the #1 leading cause of death and disability for American youth: brain injuries. Mr. Donohue had also previously founded another school for students with brain injuries in New York City.
Mr. Donohue has spoken at dozens of conferences around the world and made media appearances as an expert in the field of brain injury. He has appeared twice on The TODAY Show and his work has been covered by The New York Times, USA Today, New York Law Journal, Los Angeles Times, CNN, MSNBC, The New York Post, The New York Daily News, Reader's Digest and many other news outlets around the world.
Mr Donohue is licensed and admitted to the bar to practice law before the Courts of the State of New York. He is also admitted to practice in the United States District Court for the Southern District of New York, and the Eastern District of New York. Mr. Donohue lives in Manhattan with his wife, daughter, and step-daughter. He has served and supported various non-profit organizations in New York City throughout his professional career.